Westbrook Week

October 28 - November 1, 2019
When Oklahoma City meets Houston this season, the once-unthinkable will happen: Russell Westbrook will play against the Thunder. During Westbrook Week, Daily Thunder will be covering the player who means more to the franchise and fanbase than any other: the memories, the joy, the frustrations, and the place he'll continue to hold in Thunderdom. We invite you to process with us.
---
Day 1: Good Russ Memories
Forget the bad, forget the ugly. Let's remember Good Russ. There were so many moments from multiple Russ chapters in OKC, it would be impossible to fully capture what it was like to watch him in a Thunder uniform. But Daily Thunder writers and friends below offer some of the more indelible memories that stuck with us the last eleven years. We invite you to pour one out for the Brodie in the comments with your own favorite ZERO⚡OKC memory.
Brandon Rahbar
: The beginning.
The night was October 29, 2008. I was an excited, bright eyed and bushy tailed OKC Thunder season ticket holder, and I couldn't wait to cheer on my new hometown team. And to check out this Rookie of the Year winner named Kevin Durant, primed to overtake Michael Jordan as my new favorite player of all time. But a funny thing happened on the way to Durant enchantment. My eyes kept wandering away from the lanky all-world talent and focusing on the little ball of fury and ferociousness wearing #0. Who was this dude? I literally had to look into the game day program to find out his name.
KD had 12-3-2 on 14 shots and was a -14 that night. Russ went for 13-4-4 on 9 shots and was a +5. It wasn't the stats that swayed me, though. It was the style. The energy. The effort. It was all there, front and center, in the very first game he ever played. He was just different from everyone else on the court. He was exciting.
David Brandon
: The indomitable nature of his game.
There are a lot of guys who are smoother. There are plenty who are more efficient. But there aren't that many who will just Never. Stop. Coming. At. You. When all you have is a hammer, every problem may start to look like a nail. But if you've got a big enough hammer, it may not matter.
Olivia Panchal
: Westbrook's intention.
Whether it is averaging a triple-double in three consecutive seasons, posting 20-20-20 in honor of Nipsey Hussle, scoring 58 points in a single game, winning the MVP, or putting up a 50-point triple-double in a playoff game, Russell Westbrook does what he wants. There's nothing he doesn't think he can do (admittedly, sometimes to a fault) and I honestly think he could smash any NBA record if given the chance. I don't think people realize how rare that type of mentality is– even among professional athletes.
Dominic Flaim
: His furious aggression.
The play that exemplified Westbrook in a nutshell came during the only season since his rookie year the Thunder missed the playoffs. I'll never forget him playing with that injured squad in 2015 that started Enes Kanter, Dion Waiters, and at times even Kyle Singler. There was absolutely no quit in Russ, as usual, and when diving for a loose ball in late February he caught a running knee to the head by Andre Roberson. It literally put a dent in his face. Yet within a week there he was in a face mask, running full speed toward one of the most electrifying dunks I can recall.
He played with straight up anger and aggression, injured or not. I've always admired his unwillingness to back down. Like he said, he's been "blessed with the talent to not give a f—" what other people think. He's coming at you.
Dylan Huntziger
: The lack of quit.
When I think of Russell Westbrook a lot of things come to mind. His ferocious dunks, his flashy passing, the swagger that he approached each and every game with. If you sum up all the characteristics, all the unforgettable moments in his time at OKC, you can chalk it all up to the fact man never gave up.
D. Brandon: Win or lose, you knew Russ was always going to keep coming until the closing buzzer. So many games during his MVP year, it felt like everyone else was starting to get gassed as the fourth quarter went on and he just wouldn't stop. There was nothing like watching him turn the jets up to 11 when everyone else's tongues were hanging out and punching down a dunk on some poor, unsuspecting big man's head. There's no quit in Russ.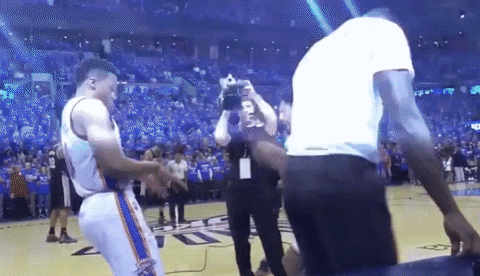 Cray Allred
: The fun side.

Allred: As intense and, frankly, humorless a persona Westbrook carved out for himself on the court and in front of the press, he was utterly unconcerned with being meme-ified (which he was, often). Bottled up and coursing with fire and rage, you'd think that when a leak sprung those in the vicinity would get scalded. But when Russ popped, instead of self-serious basketball magma, something more like confetti shot out. Dancing with Cam Payne. Channeling his inner Sally Jessy Rafael. Rapping in the car. Just as brash, just as loud as his competitive side, but unapologetically goofy.
Clemente Almanza: The MVP Season.
This might sound cliche, but this was the peak of my fandom for Russell Westbrook. Everything about that season came with an "us against them" mentality and the way Russ would come out every night and carry the team on his back was crazy to witness. I know it's not as impressive now as it was at the time, but Russ averaging a 30-point triple double for an entire season is still one of those statlines I thought I would never see in my life time. All those late game clutch shots from Russ made what should've been a dark year for the Thunder arguably the most fun one they've ever had since moving to Oklahoma City.
Huntzinger: Game 5, first round of the 2017 playoffs.
The Jazz seemingly had the Thunder's number, landing haymaker after haymaker and slowly sucking the life out of the Thunder crowd. In a 25-point third quarter hole, all hope seemed to be lost for Oklahoma City. Then Russ pulled up from three and drained it. Then drained another. And another.
He hit layups he'd missed earlier in the series. He played inspiring defense. He never entertained the thought of lying down quietly. He not only got his team back in the game, he spearheaded one of the largest comebacks in NBA playoff history. That is what I'll remember most about the Brodie.
John Napier
: February 11, 2017.
Kevin Durant's first game in Oklahoma City as a member of the Golden State Warriors. It started with pre-game introductions, with the loudest and most ferocious ovation in Thunder history. It continued, with the most passionate M-V-P chants ever heard in Chesapeake Energy Arena. It culminated after a fairly meaningless three-pointer by Victor Oladipo that cut the Warrior's third quarter lead to 18. Steve Kerr called a time out, and as Westbrook walked to the OKC bench, he turned and yelled to Durant, "I'm coming!" which was followed by 18,203 fans erupting in support. The Thunder may have lost that game, but it didn't really matter. That night was all about Westbrook. That night was Oklahoma City singing a love song to Westbrook—all together in perfect harmony.
Allred: The game-breaking steals.
One of the most frustrating parts of the Thunder fan experience during their heyday was that the team so often played like it had a huge margin for error. Russ embodied that, eschewing any care for efficiency because of his supreme self-confidence and belief that he and his teammates could simply will their way to victories, regardless of what anything else on the scoresheet said. And dammit if he wasn't right, routinely leading comebacks from games that felt blown or hopeless.
My favorite moments were when the opposing team would be playing reasonable, controlled basketball on any given possession, only for Russ to shoot out of a cannon and snatch a WTF steal. These were backbreakers for opponents playing the right way, shattering their assumption that there was a disciplined, predictable path to close a game. There usually is, but not against those Thunder teams. They played the Russ way, taking possessions and games away with brute force and a snarl.
Panchal: If I had to choose my favorite memory, it has to be this steal at the absolute peak of Thunder basketball (just listen to how LIT the crowd is!). The precise moment when Russ surpassed Kevin Durant as my favorite Thunder player:
Aidan Elrod
: The flip shot was my all-time favorite memory, too. Everything about that play was great: the defense, the incredible shot, the celebration, the crowd noise, it was perfect. And it marked the arrival of the Thunder. As long as Russ was playing, I felt like we were never out of a game (even if it was his fault we were behind). He almost always found a way to lead the team back from their deficit. The 2016-2017 season alone was filled with countless games where the team fell behind double digits and still managed to win because of Russ. Even though he wasn't perfect, he managed to capture the hearts of the fanbase like no other Thunder player has.
Rahbar: When I walked out of the arena that night 11 years ago tomorrow, I wasn't texting my friends and family about Kevin Durant. I was telling them of this Tasmanian Devil of a rookie named Russell Westbrook. When I bought my first ever Thunder jersey, it wasn't Durant's, it was Westbrook's. And 11 years later, I'm not flooded with warm fuzzies thinking about KD, but here I am all aflutter with thoughts of Russ.
The world tuned into OKC games for a decade in large part because we had the most entertaining player in the world playing for our team. And even though he's now wearing red instead of blue and his jersey says "Rockets" instead of "Thunder", his story will always begin and end in Oklahoma City.