Who you got?
In Episode 2 of Crossbolts, Daily Thunder Beat Reporter @brandonrahbar and Senior Writer @oliviapanchal debate who has a brighter future— Lu Dort or Darius Bazley. #ThunderUp pic.twitter.com/SgZRcUCcNf

— Daily Thunder (@dailythunder) May 12, 2020
Darius Bazley is showing off his quarantine guns. This bodes well for his basketball career but maybe not his drumming hobby. Unless he is into speed metal. #bolts pic.twitter.com/wK5Y9QpFSD

— Daily Thunder (@dailythunder) May 10, 2020
…ba dum tiss.
ICYMI: Via Joe Mussatto (Oklahoman), the Thunder are not reopening their practice facilities until further notice.
Danilo Gallinari isn't optimistic about the season coming back.
But others in OKC and around the league are becoming more so:
Chris Haynes (Yahoo!) reports that Chris Paul and other stars around the league have formed a "Let's Play" consensus.
And Woj (ESPN) reports that the owners are feeling positive about resuming play this season.
Joe Mussatto talks with Nazr Mohammed about his time with the Thunder as both a player and front office member.
Erik Horne (The Athletic) summons the Harden Trade Ghosts in his do-over column.
Zach Kram (Ringer) looks at how some of the more dominant teams performed relative to their title expectancy; the Thunder dotted the path of a few.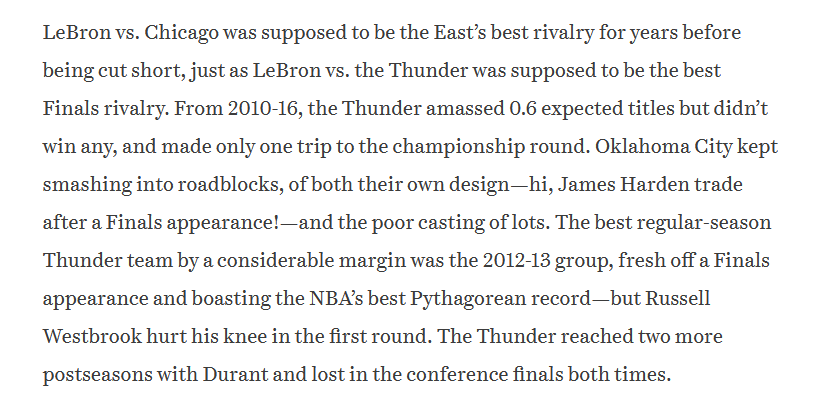 Luke Adams looks at the Thunder's cap sheet as part of his Salary Cap Preview series for Hoops Rumors.
If you're into Animal Crossing, I hear these kinds of things can be tough to come by:
Gamer Thunder fans, which is more valuable: Animal Crossing gear or 2K player packs?

(the codes are here: https://t.co/gjPdq3r9M1) #bolts

— Daily Thunder (@dailythunder) May 10, 2020
Listen to a sneak peek of another 90s basketball project delivering us from no-sports boredom: Jack McCallum on the Dream Team with Zach Lowe.
Author